UMT eMMC Tool activation online Service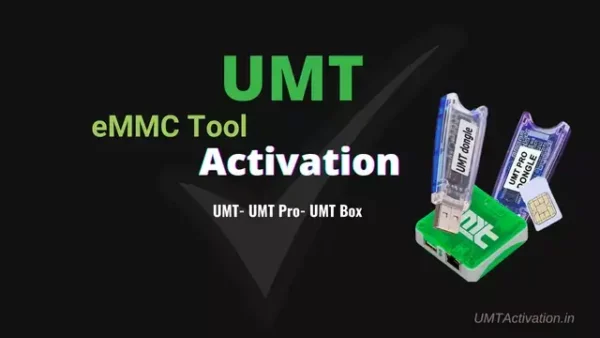 What is UMT EMMC Activation?
UMT Ultimate EMMC is a software tool that can repair and manage your Android device's internal storage (eMMC).
UMT EMMC Activation work on UMT Dongle, UMT Pro, and UMT Box.
What will you get with UMT EMMC Activation?
With UMT eMMC Add-on Activation Module, you will also get access to UMT HST Hisilicon Service Tool (HiSilicon Service Tool) and the Ultimate IOS Ramdisk Activator.
What can you do with the UMT EMMC tool?
UMT Ultimate EMMC Tool is for advanced repair technicians.
With UMT Ultimate EMMC Tool, you can communicate directly with a device's EMMC memory chip.
This allows you to read/write data directly, bypassing locks or encryption.
With the UMT EMMC tool, you can repair damaged sectors, remove lock codes, and replace the firmware on the chip, enabling advanced repairs via ISP pinout.
How to Activate UMT Dongle EMMC Tool?
Make sure your antivirus is turned off.

Download and Open

UMT Card Manager

Click On

Get Card Info
Copy your UMT Box-Dongle

 Serial Number

Fill In the Order Details.
After successful payment, your UMT eMMC Tool activation will be done within 30 minutes to 1 hour.
(Usually takes 20 minutes during Working Hours)
Note: Please always place the correct 12-Digit UMT serial number.
Example: UMT123456789 ✔️
Only Place an Order if you valid UMT 1-year Activation.
UMT eMMC Activation price in India?
One Time UMT eMMC Activation price ₹1199/-
For UMT / UMT Pro / UMT Box
(No Extra Charges)
How to Pay For UMT eMMC tool activation?
You can pay through any of your favorite UPI apps like Paytm, PhonePe, G Pay, Amazon Pay, etc.
Pay by scanning the QR code if you are ordering from a Laptop or PC.
That's it…
Frequently Asked Questions
Do I need to renew my UMT Activation Addon?
NO, UMT eMMC Addon Comes with lifetime Activation.
What are the requirements for using the UMT Ultimate EMMC tool?
To use the UMT Ultimate EMMC tool, you need a dongle, eMMC hardware tool, UMT eMMC Activation, and some technical knowledge.
Can UMT Ultimate EMMC be used to repair all types of EMMC memory chips?
The UMT Ultimate EMMC can repair many EMMC memory chips, but not all. Check the compatibility list before using the tool and make sure you have the necessary technical knowledge to avoid further damage to the device.
I am having trouble connecting to the eMMC after using the ISP pinout. What should I do?
Here you can get the solution from here