UMT Card Manager Download (Latest version)
Installing UMT Card Manager is easy! Just follow these simple steps to install it on your laptop or PC smoothly.

Make sure your antivirus is turned off.

Download the UMT Dongle card manager From the below links. 

Complete the setup installation and open it.

Validate that the UMT dongle is plugged in and connected to the PC or laptop.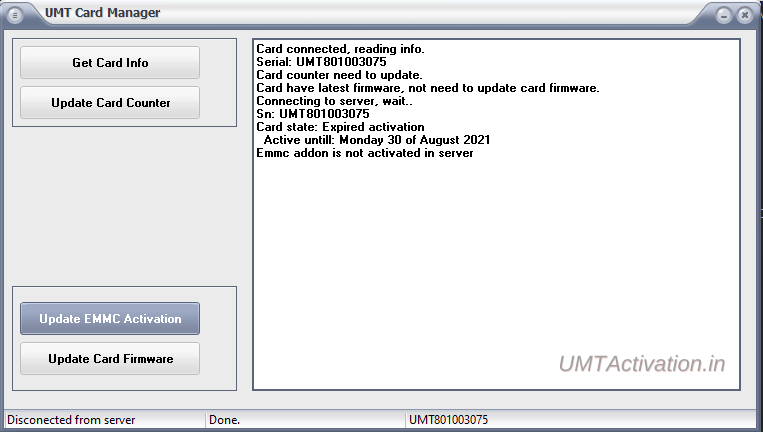 What is UMT Card Manager?
UMT Dongle Manager is a handy software tool that works with UMT Dongle, UMT Pro, and UMT Box. which are hardware tools used for servicing, repairing, and unlocking mobile devices.
It provides extra features for managing and configuring the UMT dongle.
What can you do in UMT Card Manager?
Get Card Info: With UMT Card Manager, you can easily access UMT Smart Card Info, including the UMT serial number and cart state. You can also check the UMT Activation expiry date and EMMC addon activation status. It's a simple and convenient way to keep track of your UMT dongle information and ensure smooth operation.
Fix UMT card update required issue

If you are encountering the "UMT card-update-required" issue on your UMT dongle after installing new updates,
don't worry, it's a common problem that can be easily fixed.

Simply access the UMT Card Manager and click on the "Update Card Counter" option. From there, you can update the card firmware and resolve the issue.
The Smart Card firmware has been updated and completed successfully.

Note: If you update the card counter more than 3 times, you will not be allowed to update the card counter for 48 hours. You will receive an 'exceeded' error.